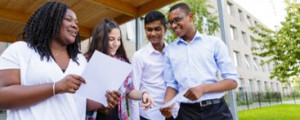 Outstanding A-Level Results and University Destinations at William Perkin
Students were not only celebrating outstanding A-level grades at William Perkin this week, they had also secured an exceptional range of places at the most competitive universities. 48% of the grades awarded were A or A* with a stunning 66% A-A* in Maths (the school's most popular subject area). Outcomes in sciences and languages (the school's specialisms) were particularly strong.
16 of the highest achieving students gained 3 or more A* grades securing places at the very top universities ranging from Medicine to Aeronautical Engineering at Imperial College London, Computing at Kings College London, Physics at Manchester University and Modern and Medieval Languages at Cambridge. 8 students overall gained entry to Medicine, Dentistry or Veterinary Science.
Associate Headteacher, Ms Amy Newman, commented: 'This has been a really difficult year for schools and I am incredibly proud of the determination of our staff and students in ensuring that aspirations remained as high as ever.'
A letter about the grading process was sent to all Year 13 students and parents/carers by email on Monday 9 August. You may also find it helpful to look at the Ofqual Student Guide to Awarding (Summer 2021)
You can also read the William Perkin Centre Policy here and download a copy of the JCQ Appeals Form.