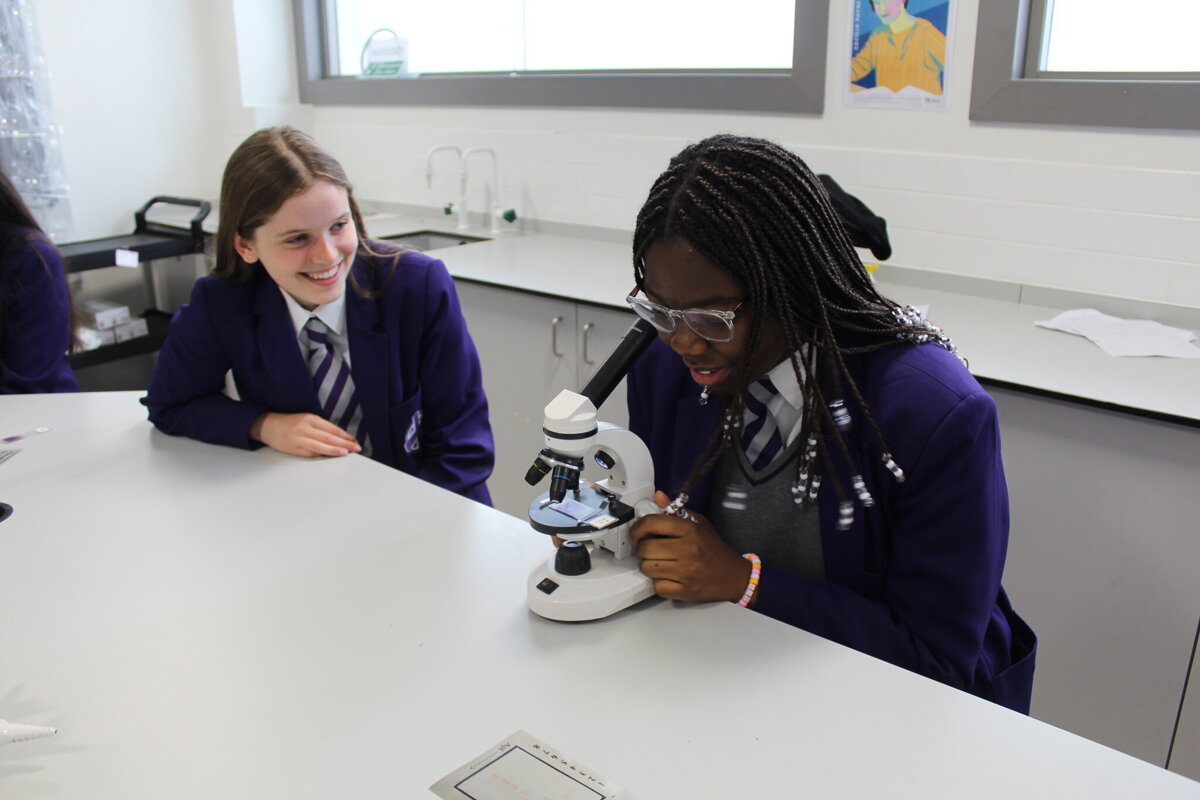 On Friday 6th May 2022 William Perkin staff and students celebrated their Founder's Day. On this day we commemorate the founding of our school and champion our specialism of science with the whole school engaged in exciting science workshops, activities and talks. The theme for this year's Founder's Day was Health.
Key Stage 3 students were treated to a Keynote Speech from Dr Aileen King from King's College London who's talk was entitled "Can Pigs and Seaweed Provide a Cure for Diabetes?". This was a fascinating talk based on Dr King's own career and research and really gave students a window into the world of medical research. Key Stage 4 students had their Keynote Speech delivered by Professor Jeremy Pearson MBE. Now retired, Professor Pearson still holds the title of Emeritus Professor at King's College, he has had an incredible career in vascular biology and has received a number of honours in recognition of his work in academia and for the British Heart Foundation. His talk focussed on current research into how to repair damaged heart tissue following a heart attack and what titled "How to mend a Broken Heart".
All students also got to enjoy a show from the Royal Institution, with fire, rockets and explosions students learnt about "Energy Live" which of course is something we all need if we are to be healthy! Some students returned in the evening with their parents and families from our Trust partner school Ada Lovelace to enjoy a community show from the RI which focussed on some different areas of science. They learnt how friction can hold two phone books together so strongly that even a tug-o-war can't pull them apart, they learnt how the energy in flour can be released in a very explosive way and how butane makes an excellent rocket fuel amongst many other exciting demonstrations.
The rest of the day the students took part in health-based workshops. The Sainsbury Wellcome Centre provided a fascinating session on Neuroscience where, amongst other activities students learnt they could use their brain (via an interface) to control somebody else's arm! Dr Manish Bose from Ealing Dentists Ikon spoke about Dental Technology; Jamie Sheerin (Health and Safety Adviser to London Fire Brigade) delivered a session on hazardous materials and the London Ambulance Service spoke about a career as a paramedic. There was also a fascinating practical workshop from Dr Sarra Jawad (Consultant Restorative Dentist at Guy's & St Thomas' Hospital). Dr Carole D'Souza spoke about blood diseases and engaged students in microscopy and Middlesex Cricket Club had students taking part in strength and conditioning exercises. Always keen to promote good mental health we also had some art therapy going on with Simran, star of TV's Grayson Perrry's Art Club.
In addition to our visitors and volunteers from outside the school William Perkin's own staff delivered some amazing and engaging sessions ranging from the Health and Safety of Formula 1, to learning to stitch a wound by suturing a banana. Students also learnt how to measure the vitamin C in different foods, how to bandage each other in the Physiotherapy session, the history of medicine, how physical activity affects pulse rate and how to build a skeleton.
I'm sure you'll agree this was a fun-packed and very educational day. All our visitors commended our students on their excellent behaviour and high levels of engagement.
We look forward now to Founder's Day 2023!!