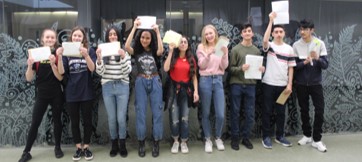 GCSE Results Day is on Thursday 12th August 2021.
Key information for GCSE Results Day 2021 for current William Perkin Students:
We will be issuing GCSE results envelopes from 8.30am in the Performance Centre
Results will also be issued on Go4Schools later in the morning
Students continuing on to the William Perkin Sixth Form will be able to enrol immediately (if they have the required entry grades)
Staff will be on hand to support any students needing advice / guidance regarding with their next steps
A letter about the grading process will be sent to all Year 11 students and parents/carers by email on Wednesday 11 August. You may also find it helpful to look at the Ofqual Student Guide to Awarding (Summer 2021).
You can also read our centre grading policy, and download a copy of the JCQ Appeals Form.
Key information for GCSE Results Day 2021 for external applicants:
If you have already applied to the William Perkin Sixth Form, please follow the instructions that you were sent via email on 21st July 2021.
If you have not applied to the William Perkin Sixth Form but are interested in enrolling, please check the entry requirements here. If you meet the entry requirements for your chosen courses, please bring your GCSE results to William Perkin between 12.00-2.00pm on Thursday 12th August. Please note that a number of courses are likely to be at full capacity due to the very high number of on-time applications. Please do not come to the school if you have not met the entry requirements.
We would recommend that all students wishing to confirm their place at William Perkin do so at the earliest possible opportunity on Thursday 12th August to guarantee places on our most popular courses.